Overview of the Project
Global Crossroad's main rehabilitation volunteer project in India tackles a massive and challenging task for those who want to help at-risk youth. Sadly, many young people in India today are addicted to drugs. In Delhi, many rehabilitation centers work with these young men and women to help them reintegrate to society and lead normal and productive lives. The constructive counseling and training programs offered by rehabilitation centers like Global Crossroad's help these young people become independent and self-sufficient individuals again and offer them social and working skills they need to become solid members of society.
Additional rehabilitation center programs care for physically and mentally challenged children and adults. Volunteers make a profound difference in the lives of these challenged individuals through counseling, teaching and sharing creative skills like sewing, woodworking and candle making. As a volunteer in our rehabilitation project, you will share your time and talents, helping participants reclaim a life of dignity and independence.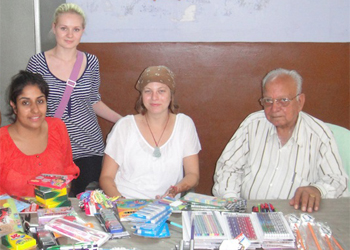 Program:

Volunteer in India

Projects:

Work in an Adult Rehabilitation Center

Start Dates:

1st and 3rd Mondays of each month

Location:

Delhi

Departure and End Point:

: New Delhi, India (Indira Gandhi International Airport)

Language Need:

none

Accommodation and meals:

host family and Indian meals three times daily

Activities:

: Varied, dependent on placement

Working Hours:

25-35 hours per week
A third rehabilitation project focuses on orphanages that cater only to mentally and physically disabled children. Volunteers in this project conduct physical exercises, teach English and facilitate creative activities. These orphanages are considered "rehabilitation projects" because the children were neglected in their poor communities and were brought to the orphanages to be rehabilitated for self-reliance. Physiotherapists are needed for this project.
Role of
Volunteer
Volunteers in our drug rehabilitation center through a variety of important activities:
Counseling
Life-skill development
Teaching English
Craft work (drawing, painting, etc)
Musical instruction
Sewing, tailoring, embroidery, etc.
Basic computer training
Hygiene and health instruction as well as info on moral values
Woodworking
Candle making
Volunteers in our other rehabilitation programs have tasks assigned based on experience and skills.
Skills/Qualification
Needed
Fluency in English is required, but you do not necessarily have to be a native English speaker. You should also have a passion to play with and help young children. Volunteers should be good role models, flexible, patient, caring, creative, responsible and open-minded.
Volunteer in India: Project Locations and
Free Time Options
Our India volunteer projects take place in and around Delhi and Jaipur, which are incredibly colorful, thriving and bustling cities steeped in history and cultural opportunities.
As a historical capital city of India, Delhi contains major Indian tourist attractions the like Red Fort, Lotus Temple, Qutab Minar, Lodhi Gardens, etc. Delhi contains a diverse assortment of local markets, restaurants, internet cafés, nightclubs, shopping centers and cultural heritage sites to experience. There are numerous chances for volunteers to explore Delhi with their free time and options abound. Taxis/auto rickshaws are affordable transportation options and tours can be arranged to Agra and Jaipur as well as other rural locations.
Renowned as the Pink City of India, the royal capital of Rajasthan, Jaipur was built by Maharaja Sawai Jai Singh in 1727 AD. The ancient forts and palaces attract thousands of travelers from all over India and the world. While in Rajasthan, you can go for a camel ride and a jeep safari to explore the unending stretches of the Thar Desert. In Jaipur, our volunteer project is located 20 miles north of Jaipur in a small and vibrant village. Volunteers can explore beautiful villages, visit local bazaars, meet friendly people and discover amazing landscaping of Rajasthan village.