Work in orphanage and explore India for 4 Days
India ( Delhi ) Mini-Venture provides a meaningful opportunity for participants to explore the diverse and natural beauty of India as well as its people and unique, rich culture while simultaneously giving hope to disadvantaged children. The opening days of the program, participants will teach subjects such as health-related issues, conversational English, and personal hygiene as well as nurture the children's creative sides through art, educational-based games and other extracurricular activities.
Once participants have made an altruistic, yet vital, contribution to these children's lives, they will embark on a 4-day journey through India 's famous "Golden Triangle" - consisting of Delhi , Jaipur and Agra - all areas exhuming the historically rich past of India astounding diversity and both architectural and natural beauty.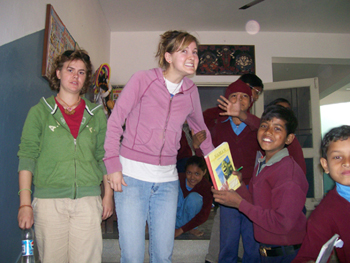 Program:

Mini-Venture India

Start Dates:

1st and 3rd Mondays of each month

Departures:

Indira Gandhi International Airport, Delhi

Language Need:

none

Accommodation and meals:

Mostly Hostel or Host family and Indian foods three times a day by host family

Working Hours:

None

Activities:

Vary with daily diary, please see details above
Proposed Program
Schedule:
Day 1:
Orientation in Global Crossroad's India office, including a discussion on our volunteer projects, work responsibilities, health, climate of the country, and other pertinent topics. Volunteers will depart for their project where they will be part of an orientation with local staff before beginning work.
Day 2-10:
Work with the street children/orphanage project in New Delhi . Our volunteers work with some of the poorest and most unprivileged children of India . Volunteers help children with conversational English, sanitation skills, educational games, and other creative activities. Evenings are free; volunteers may explore the surrounding areas as advised by our in-country coordinator.
Upon completion of the project, volunteers will return to our office to be briefed about the next day's tour program and the places they will visit. This pre-tour orientation includes topics such as home stay, transportation, conduct, and clothing.
Day 11-14 Four Day Explore India program
Golden Triangle-Includes visits to Delhi , Agra , Fatehpursikri, Jaipur, and return to Delhi
The triangle of Delhi , Jaipur, and Agra captures perfectly the pageantry of India -a gorgeous panorama of majestic architectural creations and a rich tradition of art and culture. Discover the marble symphony of Shahjahan's Taj Mahal, the imperial elegance of Lutyens' New Delhi , and the splendor of the royal city of Jaipur with landmarks such as Hawa Mahal, know for its excellence in architectural designs.
DAY one Explore the Cultural City of Delhi
Begin with an afternoon sightseeing tour of Delhi -a multi-faceted, intriguing city. Your first stop is the Red Fort built by the great Mughal emperor Shah Jehan when he shifted his capital from Agra to Delhi . After a short drive explore the great mosque, the Jama Masjid, and walk around the lanes of Chandni Chowk-the " Silver Street "-as you take in the ambiance of a bygone era. Travel to the Mahatma Gandhi memorial at Rajghat and observe Qutab Minar, built in 1191 and the tallest stone tower in India . Later, travel to Hamayun's tomb. A drive through Delhi's broad tree-lined avenues will bring you to India Gate, a memorial to the unknown soldier; Rashtrapati Bhawan, residence of the president of India; past the interesting Rajpath; and on to Connaught Circus, a shopper's paradise.
DAY Two: Visit to Agra - Explore Taj Mahal
After breakfast, begin the 4-hour drive to Agra , passing through quaint villages, working farms and the changing landscape of rural India . Visit the renowned Taj Mahal-built by the grief-stricken emperor Shah Jahan as a memorial of his beloved wife Mumtaz Mahal. Considered one of the seven Wonders of the World, the Taj Mahal not only offers viewers a masterpiece of wonder, but it is a reminder of a love story of passion and devotion.
Day Three:
Agra-Jaipur - Explore Rajasthan and the Pink City . Proceed to Jaipur and en route visit Fatehpur Sikri, a fascinating ghost town. Emperor Akbar, wearying of Agra , built a new capital here only to abandon it a few years later for lack of water. Today its fortifications, massive gateway, and palaces are a wonderfully preserved reminder of a mighty past kingdom.
Enjoy an afternoon sightseeing tour of the " Pink City ," Jaipur. Visit the City Palace , a blend of Mughal and Rajasthani architecture which is now a museum containing priceless relics of Jaipur's princely past. Not far from the Jantar Mantar is the beautiful Hawa Mahal, " Palace of Winds ." Tall and pink, and laced with delicate pierced stones, this monument is not really a palace. The queens of Jaipur and the royal ladies once used this decorative facade to watch-unobserved-numerous numerous festive processions winding through the streets of their city.
Day 04 Jaipur-Delhi - Onward Destination
Enjoy a morning excursion to Amber Fort followed by an elephant ride on the ramparts of the fort, which served as the state capital for six centuries. The pavilions and courtyards of the palace ascend in successive levels up the hill of the Sheesh Mahal. Known as the "Pavilion of Mirrors", it is the finest structure of its kind and is studded with small mirrors which reflect the flames of a thousand flickering lights.
Later in the day return to Delhi and visit our office.
The proposed itinerary is a sample and is subject to change to meet the changes in the local field conditions.
Program Fee Covers:
Airport pick up
Accommodation (host, hostel and simple hotel)
Foods/Meals as per itinerary
A professional guide
Comprehensive insurance
Fee excluded
Entry fees Airport Drop-off
Tips (for guide and/or staff)
Other items of personal consumption (i.e. soft drink, bottled water, etc.)