Name: Clare Schrodt
Email: clare.schrodt@slu.edu
Home Country: USA
Travel Date: Jun 11 2018
Country of Volunteer: Nepal
Project of Volunteer: Teaching Buddhist Monks(Kathmandu)
Recommend to other volunteers? : Yes
Volunteering with the monks was an incredible experience. The enthusiasm of the boys and the older monks in the monastery made teaching a worthwhile investment, and I was certainly pushed to learn and grow as a teacher and person myself. I was able to join in the monk's daily prayers (puja) and was invited to join the most senior monk several times to eat dinner or see parts of Kathmandu. Their welcoming nature will never be forgotten.
In general, my experience with the Global Crossrod associated part of the experience was a little disorganized at times, but even when emails were not responded to, they got me to Nepal and checked up on me throughout the experience.
My host family was welcoming and had had hundreds of volunteers stay with them in the past, so they definitely knew what they were doing! My host father tried to show myself and other volunteers that I met when I moved in with him many different aspects of Kathmandu, and he introduced us to his friends to make us feel more at home.
I wish I would've been given more information about the program such as the ability to contact a previous volunteer of the program, knowledge that I would be teaching alone, and ways I could've prepared more. Pick up from the airport went smoothly, but my last day at the program, my transport never came so I did have to taxi myself to my hostel before leaving Nepal. Overall, I was so happy and blessed to be able to spend a summer teaching and learning from the monks in Kathmandu, and although there were some logistical things that didn't always go completely smoothly, the volunteer experience as a whole was one I will never forget.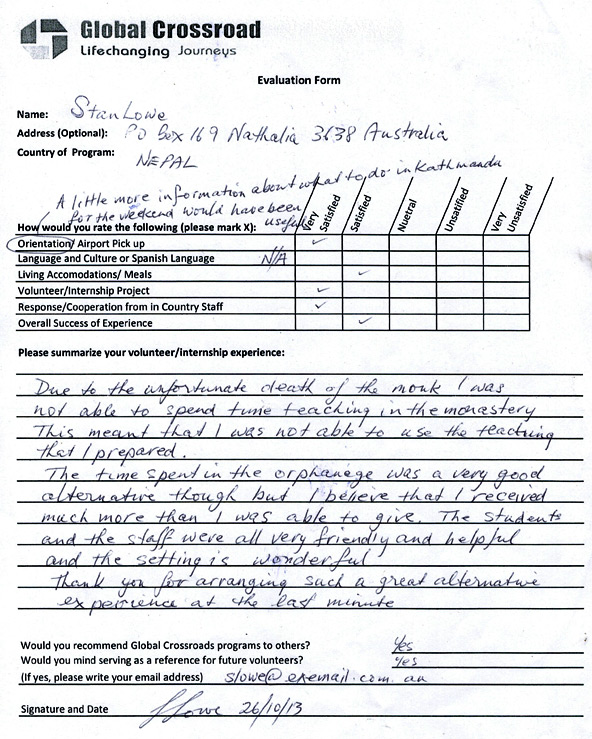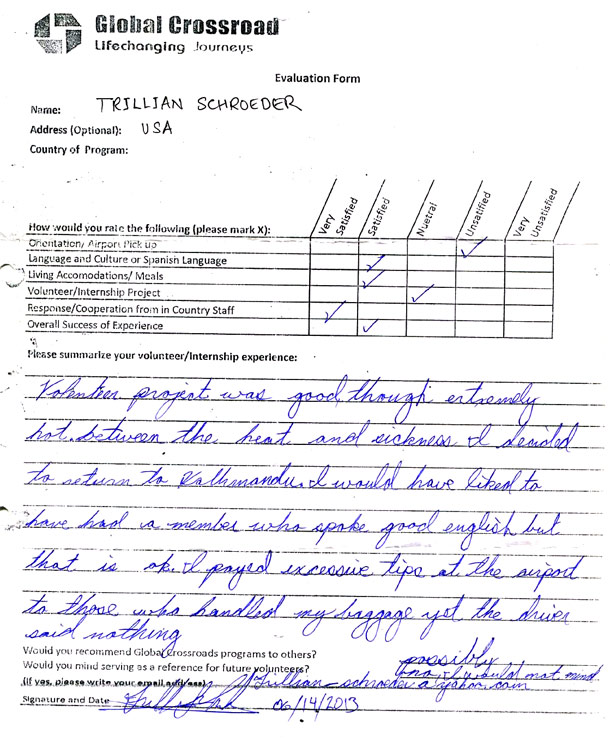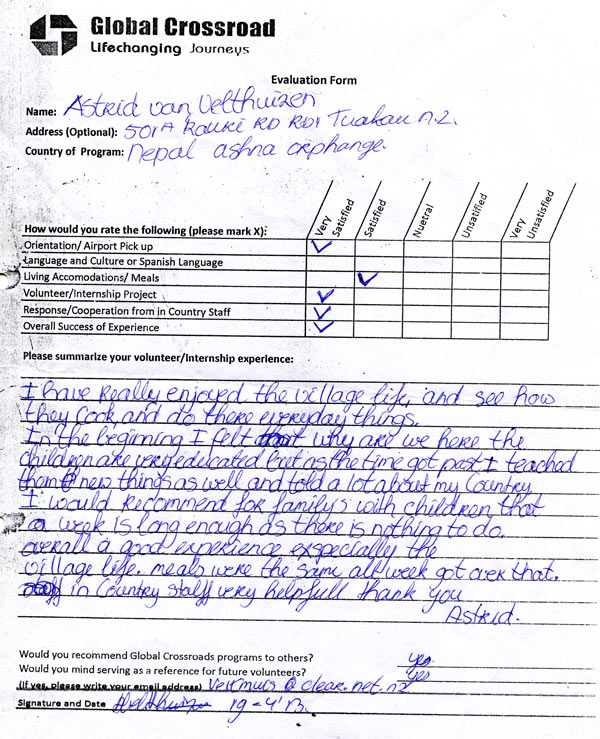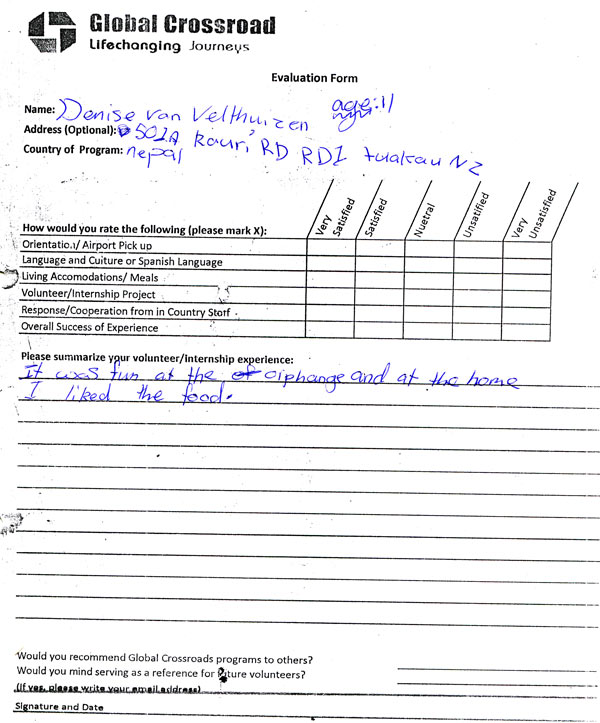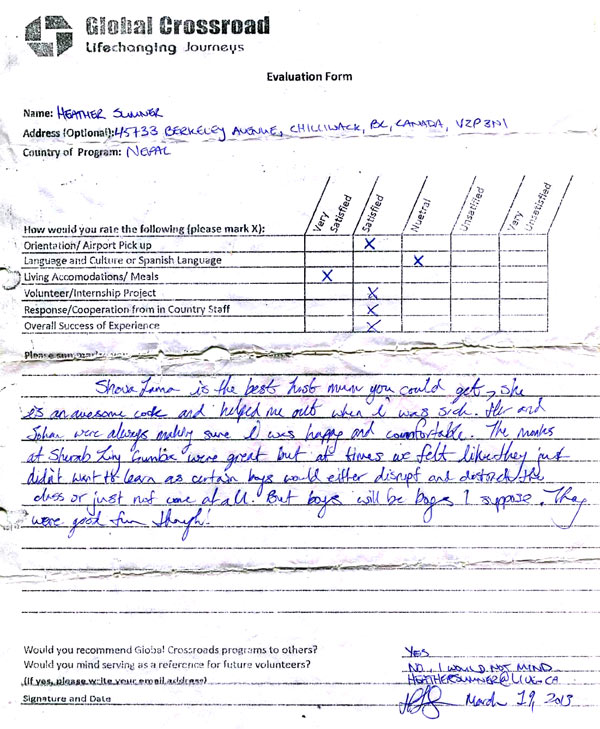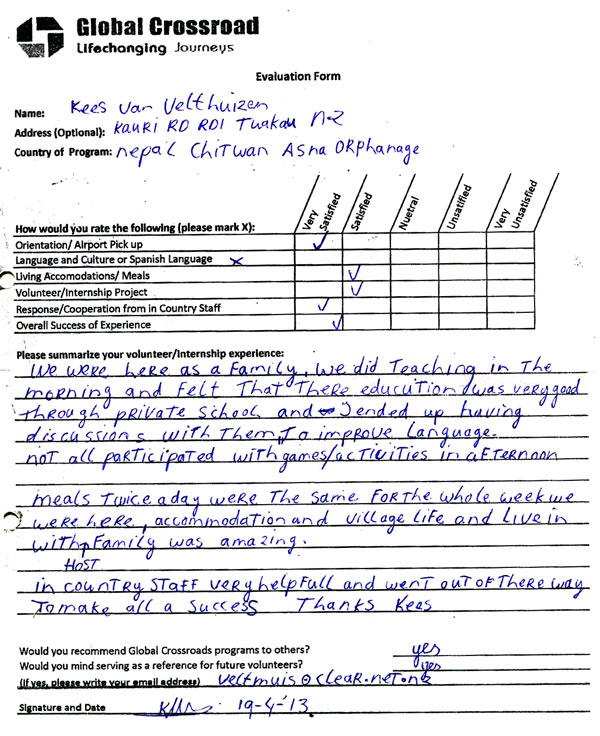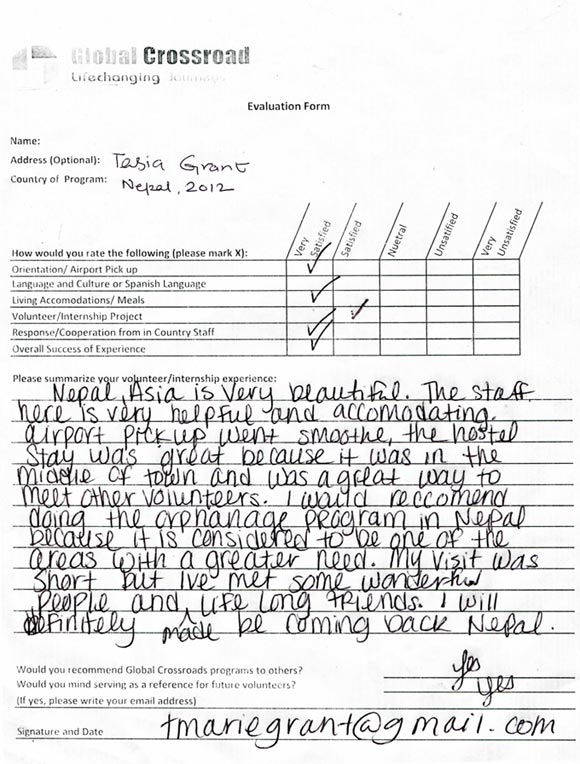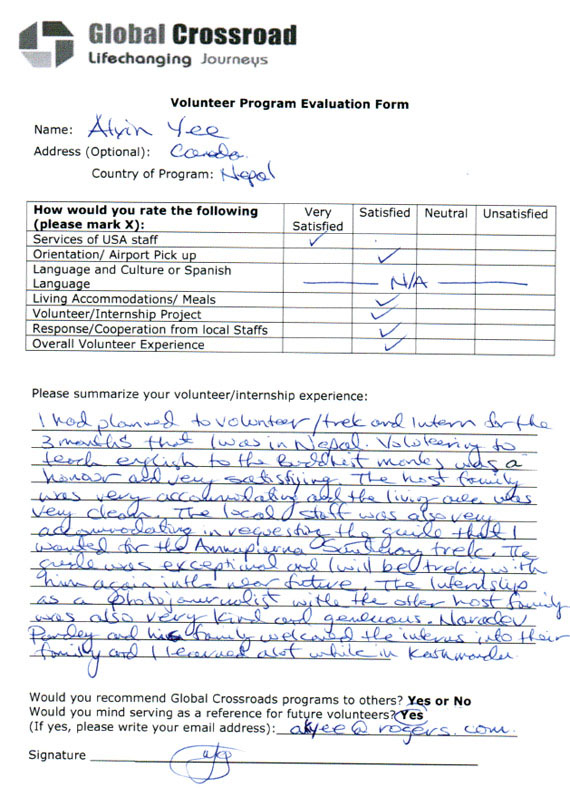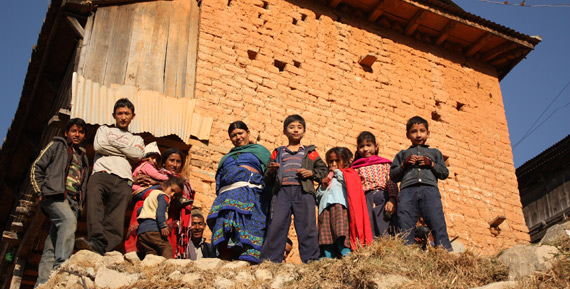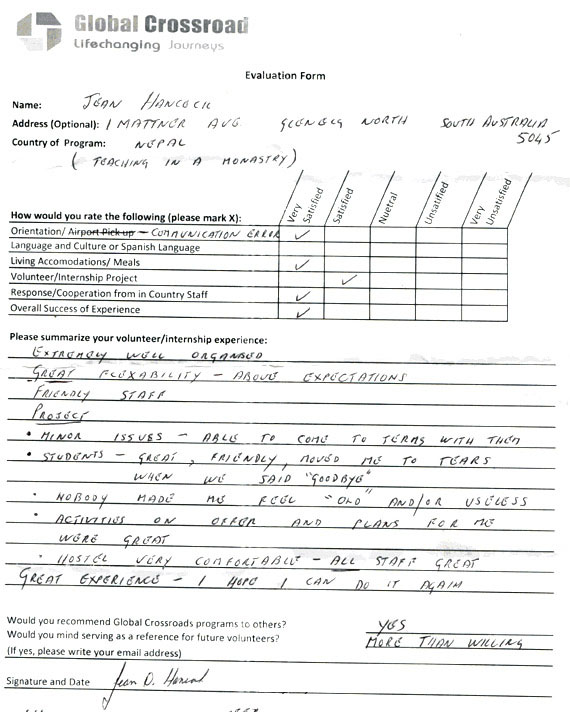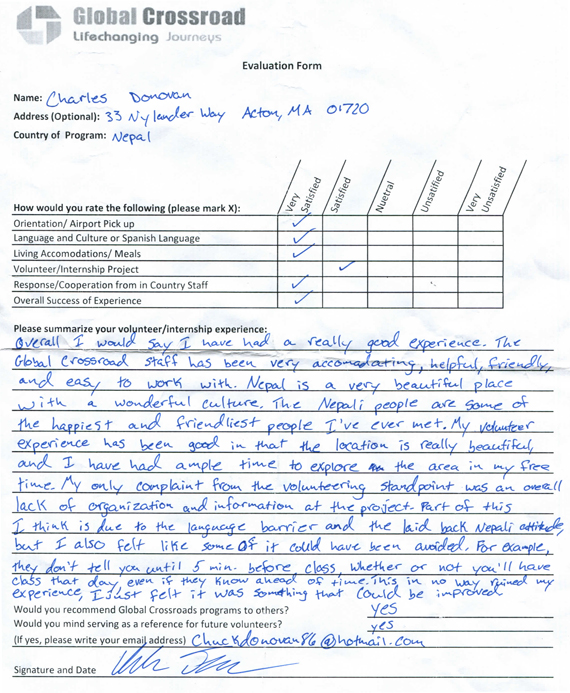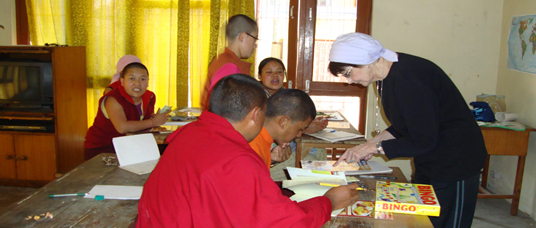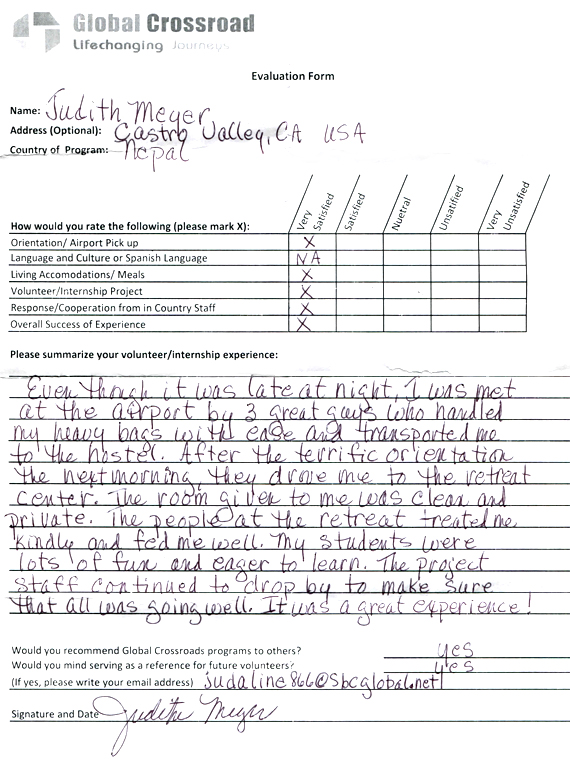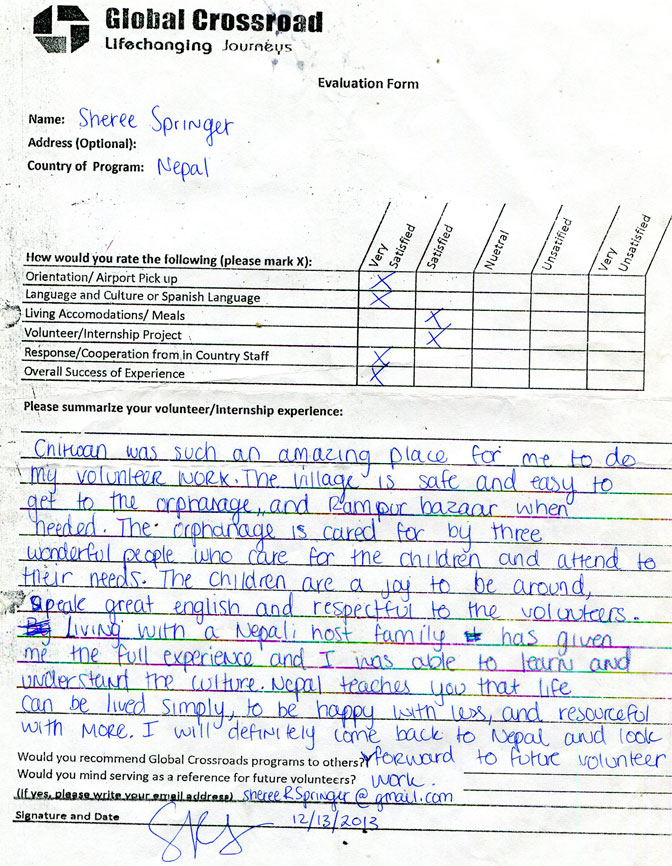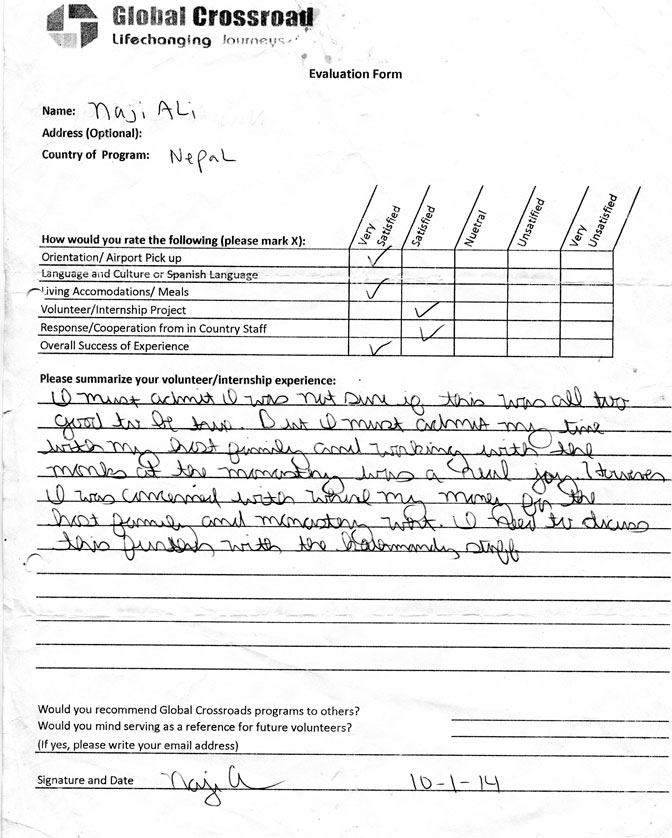 Nepal is wonderful
Saturday afternoon here (May 19th) about 3pm and I've just left the Children's Home where I've been staying since Wednesday May 9th. It was in incredible 10 days, a "home" filled with love (along with 37 children) and it all starts from the top the woman who runs the home along with her daughter Pramila. Never before (in over 20 years of teaching) have I ever come across children so loved, so clean, so respectful, so religious and so helpful. Those are just some of the attributes I can use with the children I have been lucky enough to share a home with. Besides all the wonderful things that happen each and every day at the home, I've also been blessed with being able to teach at the Durga Bhawani Academy School , specfically with 6th, 7th, 8th, 9th and 10th grades. The students at the school (although older than the children at the home) were also incredible! I really enjoyed working with them and together we had a blast. I brough along with me my laptop and had premade powerpoint presentations along with video movies I made while in Tibet last fall. That blew their socks off and each day we both looked forward to school. Unfortunately, the schools went on strike afterWednesday, so we all missed out on the final two days of working with each other. Not to worry, we have exchanged email addresses and one student (a 10th grade girl) is moving to Massachusetts later in the year with her mother to join her father and brother. They will only be living minutes away from me and I look forward to seeing Dawa Sherpa again.
While at the Children's Home, I took many, many photographs and then began making a movie. It's just about completed and when I get to Tibet (with much faster Internet connection) I will upload the movie for you to see. It's really incrediblw and Prmila is really happy with it as we stayed up late last night putting the finsal touches on it and watching it over & over again :)
Nepal is wonderful:
Krazy Kathmandu Drivers - Krazy Kathmandu Wild Dogs -
Tuk Tuks - Krazy Traffic, English speaking people everywhere (that's always nice to run into), Beautiful children, fun-loving laughing adults, helpful and hopeful people all looking towards a brighter future here in Nepal.
I wish I had a month (or two) to stay in Nepal ...
I wish I could speak Nepali...
I wish I could stay...
But, Tibet awaits!
I hope Tensin is feeling better. I hope I have an opportunity to see her and I also hope she is feeling better. I am looking forward to working with Sonam at JCWSS and still have TONS of supplies (both school and play) for the kids in Lhasa . The children in Nepal , as well as their teachers, were overwhelmed by what I brought them! :)
I have met up with many volunteers...and have heard many stories.
Knowing what some have had to work through, I feel very lucky to have had the opportunity to work with Pramila and to have worked at the Durga Bhawani Academy . I really think my many years of teaching experience has come into use as many of the othewr "kids" here feel lost or afraid when they are in the classroom. Something to be said for age (and expereince) ;-)
Looking forward to Lhasa and being in Tibet ...again.
Brian
I had the impression before I came that the Maoists did not bother tourists so I was not too concerned about them by traveling to Nepal. I've been in Nepal for 2 weeks so far and I've had no problem. I find this place safe so I don't think future volunteers would have any worries.
Mellisa
Kolnik Szymczak

This is Mellisa from Nepal. I am happy with Global Crossroad Program. First I was a bit sad as the school was closed but I was managed in government school to teach class ten students. I am happy and guess that they have learnt at least something from me at the ultimate time of SCL exam. The students are curious and want to learn many things but I am unable to teach them as the SLC is started. I am also helping orphanage children in the morning and in the evening. During day I go to teach in school. I felt better to teach government children than private as they are from poor background. Last day of my government school was exciting as I taught them playing game and Rajan was very happy to see it and the students gave me many gifts for my birthday. I am good here.
Mary
Alida Coughlin

First Week
Over all programs is wonderful. It would be better if food condition is a little improved.
Second Week
Village stay & Chitwan program was great and successful. There are no problems about Maoist.
Trekking Feedback
I loved doing the trekking with our wonderful Sherpa guides. They wanted us to see as much of the Annapurna Mountain, as possible and I am grateful for that. It would have been disappointing to teak for so long without seeing way of the great peaks.
Our guides were so thoughtful, helpful and friendly. Pemba took after time and care of me because I'm elder.
I feel that I have seen the real Nepal because the trekking brought us into the breath love of this beautiful country.
Thank you dear Sherpa brothers for sharing your heart and your story with me. I will bring back loving memories to America when I leave Nepal.
Nynke Vander Veldt
(Sita)

My orphanage stay was great. The staff members are so friendly and they really care about the children. They really like their work and that made me happy. They gave me such a great time in Nepal. The children are just the best. They are so happy, thankful and enthusiastic. I have only positive things to say about the orphanage and Nepal. I stayed in the room near the orphanage that they rented for me. I liked it very much; it was really private.
The children deserve the best. Rajan (Nepal staff of Global Crossroad) is very co-operative; he helped me a lot to change the place where I am now. I enjoyed the program very much. I appreciate that all the Nepali people are really concerned for our well being.
Rachel Smith (
Mini-Adventure)
Although our working project only lasted a week, it was great that it allowed us to get a real feel for Nepalese culture. We were able to meet such interesting people, enjoyed simple local food, and stayed in completely non-western surroundings. We were given a great amount of freedom, which allowed us to explore local areas from 10-4 each day.
Sally
Heane
The program is very nice. The Pokhara Child Welfare Centre was a wonderful placement. I recommend only this place if future coming volunteers ask me. Food and accommodation at the host family was very satisfactory. I also recommend Pokhara as a cheaper, safer, cleaner place with wonderful views close to trekking, etc. There is no safety concern if volunteers take the advice of local people and do not listen to the gossip of other tourists. The Global Crossroad staff is very frank and co-operative. Overall, I liked it very much.
Stijn
My internship is going well. The staff members are so friendly. I am doing my internship researching for my thesis and working with the website. I enjoyed Nepal a lot. I enjoyed the program very much.
Stijn (Internship Program-Nepal)
Than
Ron

My name is Than Ron and I have traveled from france with my friend Mangnus Dovina where I was under the impression that the Maoist activity presented a very real and dangerous situation for me. However on my arrival, the real situation that has unfolded is hardly what I had imagined. The national Bandas are disruptive and it is necessary to re-organize itineraries, but there has never been a dangerous situation for me. The Maoist trouble has never affected me directly, only through the strikes. I have never been in direct contact with the Maoists and I have not at any point felt threatened personally. The current political situation seems to be more animated than reality shows.
Stijn
My internship is going well. The staff members are so friendly. I am doing my internship researching for my thesis and working with the website. I enjoyed Nepal a lot. I enjoyed the program very much.
Stijn (Internship Program-Nepal)