Name: Anneli Andre-Barrett 
Country of Volunteer : Guatemala
Travel Date : Feb 2018
Project of Volunteer : Teaching English (Xela)
We are still planning to complete your questionnaire next week, but we are already starting to think about the possibility of volunteer teaching/traveling next year. Can you give us an idea of what options might be available for Feb. 3 - 24, 2019 teaching English at a primary or secondary school in Quito (or just outside of the city) and staying in a homestay? As our experience in Xela -- teaching in Santa Maria -- was an excellent one, we are now considering traveling to another Spanish-speaking country next year.
Please let us know if this is feasible, and, if so, what costs would be entailed.
Gracias!
Anneli
Recommend Global Crossroad to other volunteers? Yes No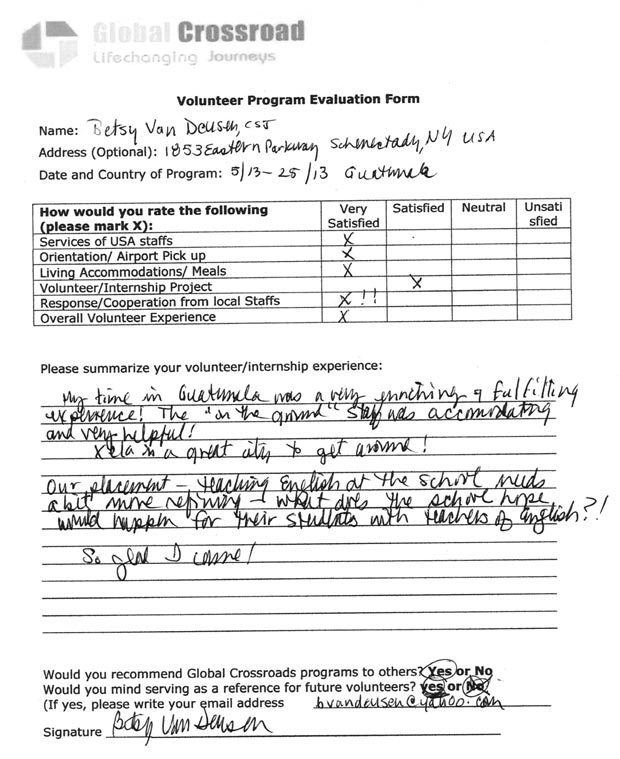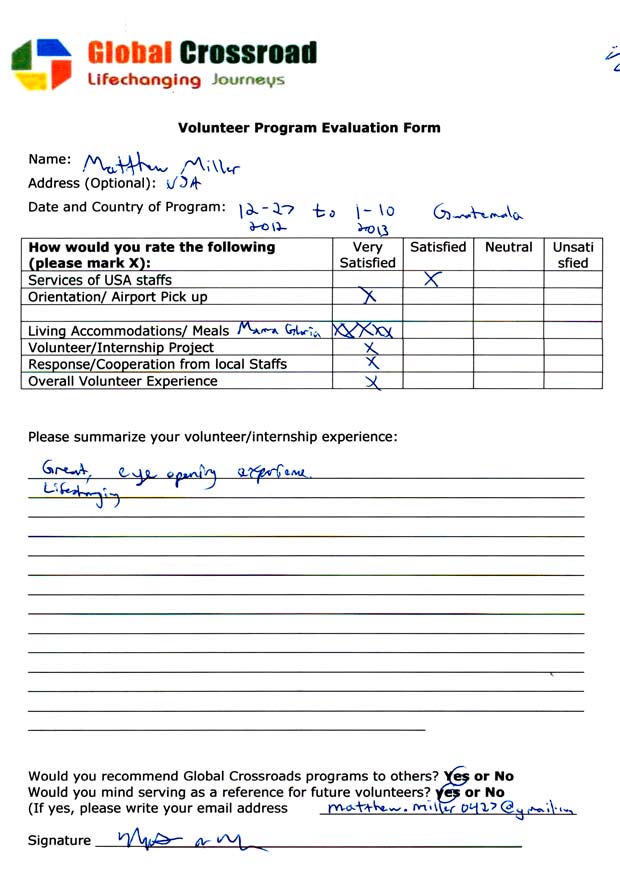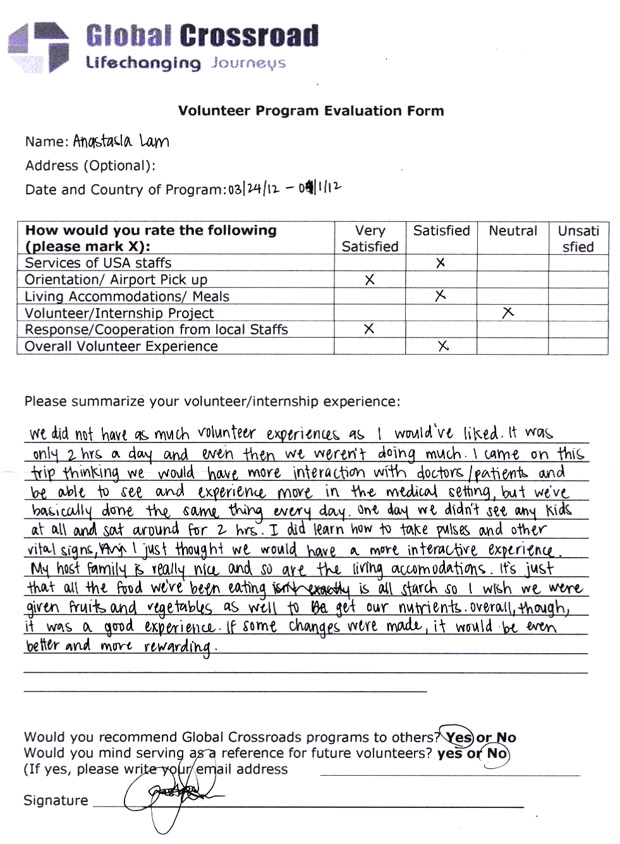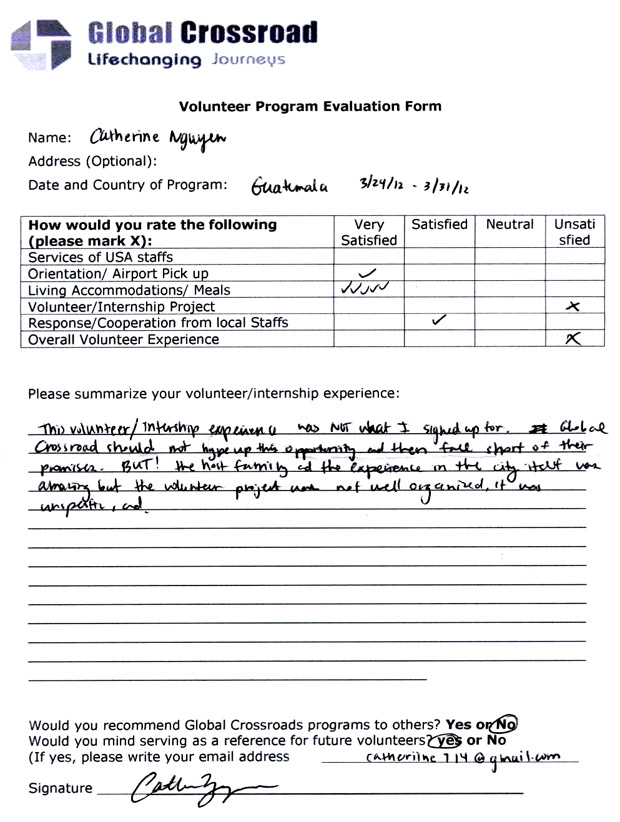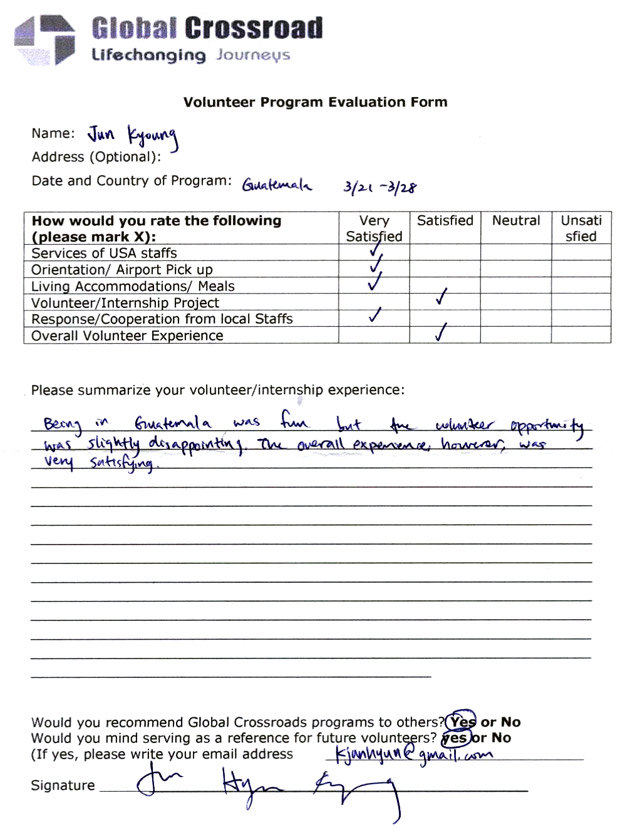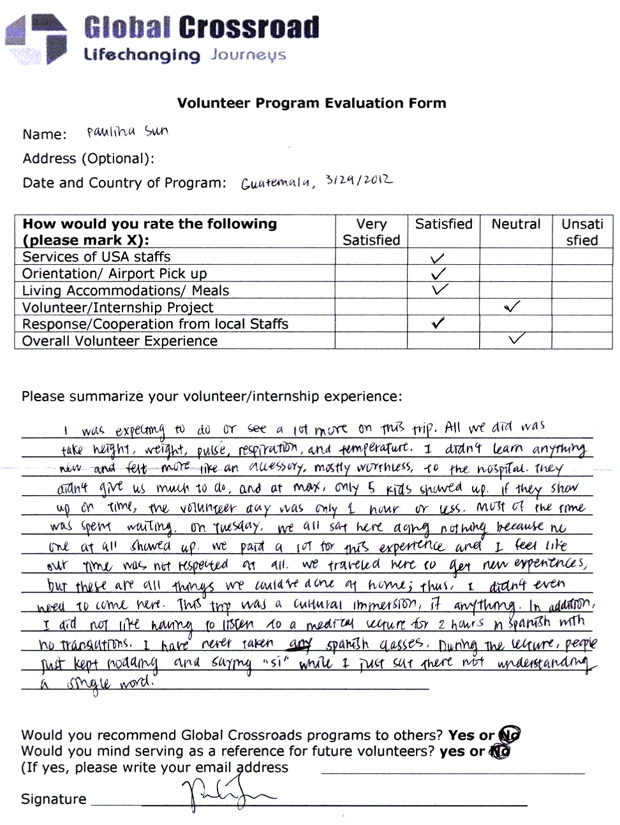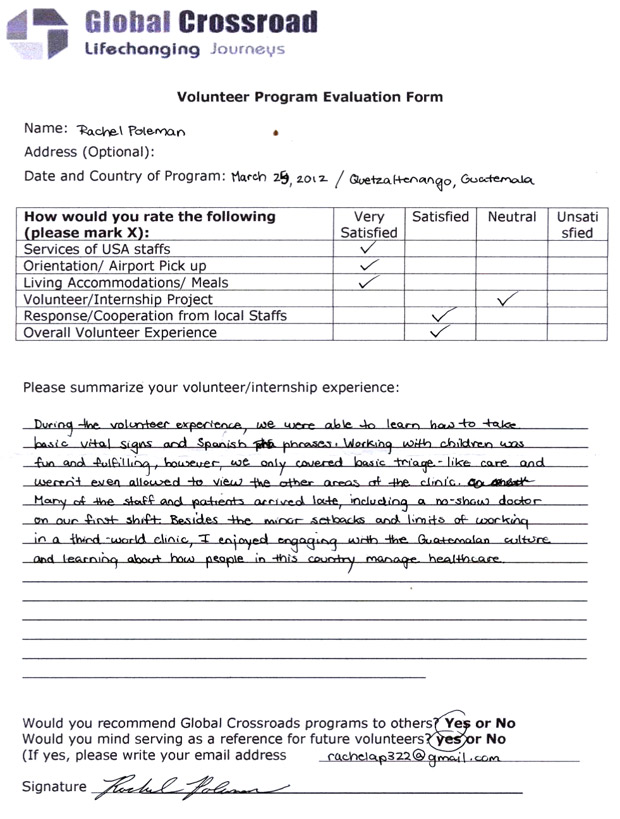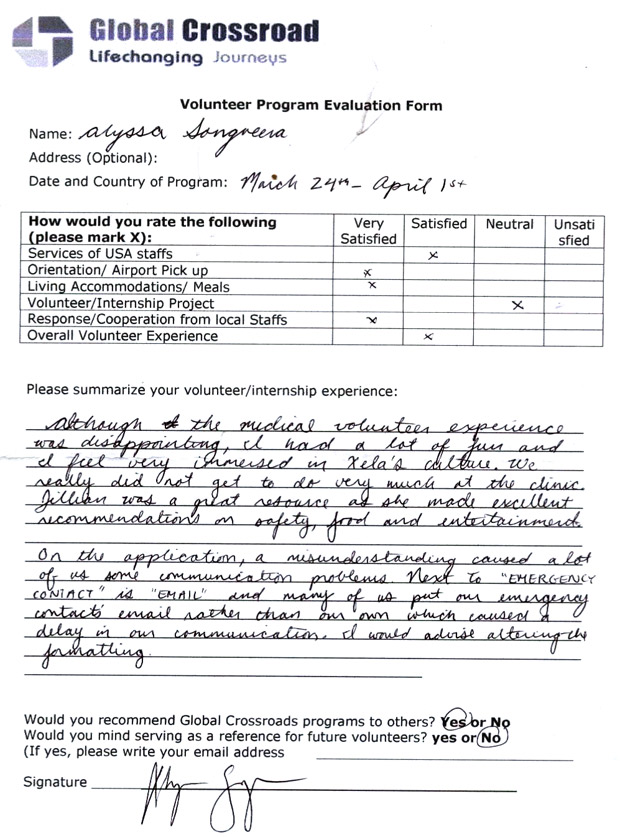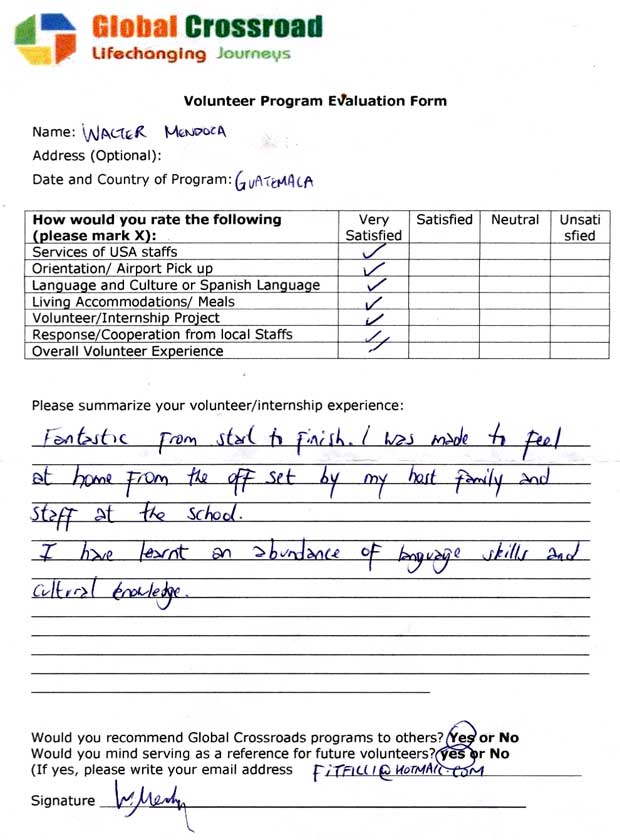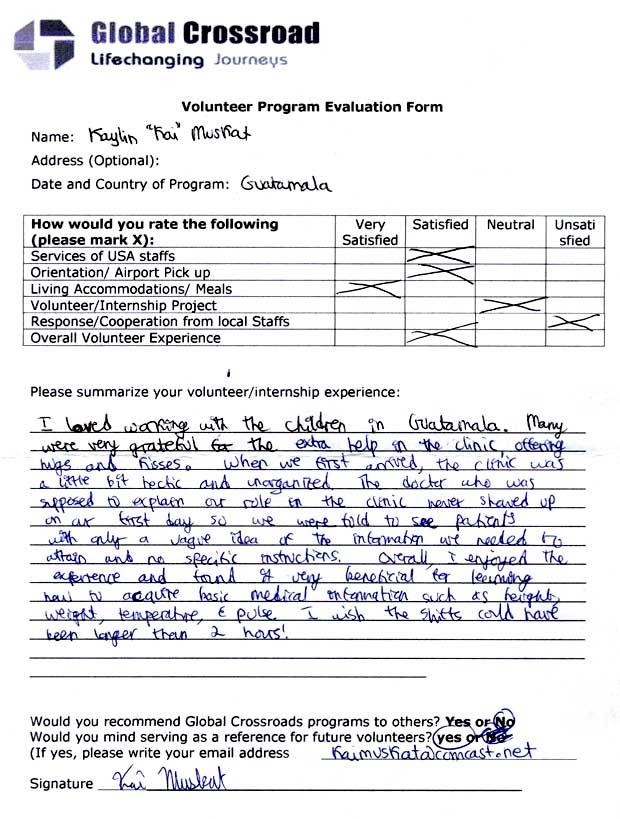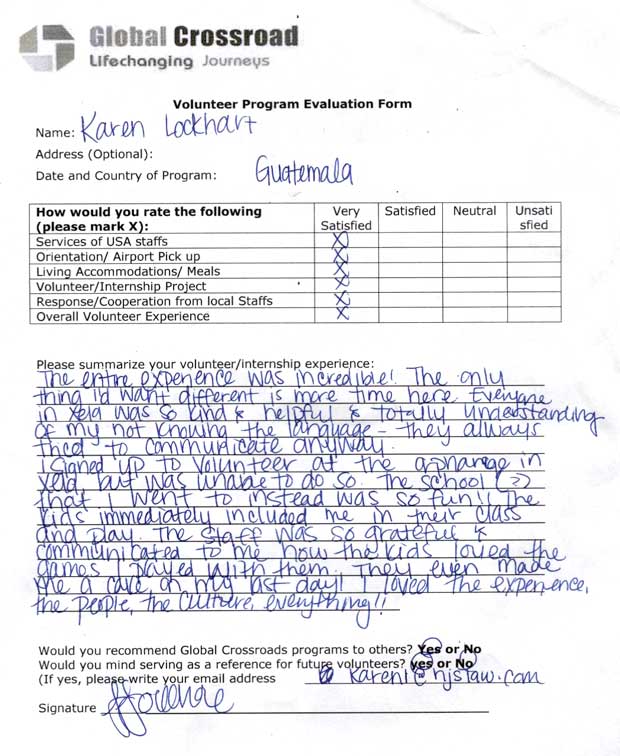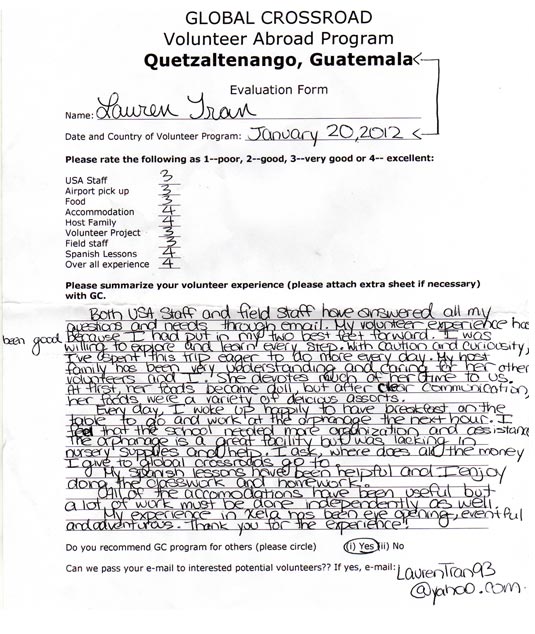 Volunteer Evaluation SHEET
Name: Kathy Hepinstall
Volunteer country: Guatemala
Please rate the following as 1--poor, 2--good, 3--very good or 4-- excellent:
USA Staff __4__
Airport pick up __1/4 (confusion about pickup…drop off was excellent though!)__
Food __3__
Accommodation __3__
Host Family ___4_
Volunteer Project __4__
Field staff ___4_
Over all experience _4___
Please summarize your volunteer experience (please attach extra sheet if necessary) with GC.
An amazing experience – Global Crossroads was both very organized and professional. Everyone associated with Global Crossroads and the Orphanage was very kind and accommodating. The other volunteers were great, and my host family was wonderful – especially Maria, who was thoughtful and funny and concerned and warm. Speaking of warm – definitely warn the volunteers there is no heat in the houses and it got quite cold at night! Loved the hostel in Guatemala – those people were amazing and I will go to that hostel again for whatever reason I find myself again in Guatemala city. Just the most decent kindest fascinating most accommodating people – great stories too! I really felt at the orphanage that I was helping and allowed to make a difference. I think volunteers are needed there and I felt needed and appreciated. I especially liked my teacher, who was in charge of the special needs students.
Do you recommend GC program for others (please circle) (Xi) Yes (ii) No
Can we pass your e-mail to interested potential volunteers?? If yes, e-mail: