Name: Marie Lamensch
Address (Optional):
Country of Program: Ghana,
How would you rate the following (please mark X):
Very Satisfied
Satisfied
Neutral
Unsatisfie

Orientation/ Airport Pick up
X

Language and Culture or Spanish Language
X

Living Accommodations/ Meals
X

Volunteer/Internship Project
X

Response/Cooperation from local Staffs
X

Overall Volunteer Experience
X
Please summarize your volunteer/internship experience: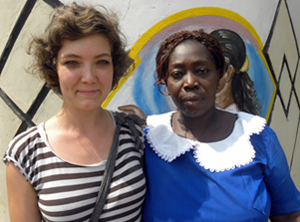 My volunteer experience was absolutely amazing. The US staff was very helpful. Anytime I had a question prior to departure I would call the team and they would help me.
Franklin and Richard are responsible for the volunteer on the ground. The first week, Richard brought me everywhere and answered to all my needs and questions. The language and culture programme is very helpful, especially if you're staying for more than a month. Ghanaians are very happy when you can say a few words in Twi.
Franklin, the country coordinator, picked out internships for me in three different hospitals. I worked in a malnutrition centre in Accra and two rural maternity/women's clinics in Kasoa. I had an fantastic experience and learned so much in only a few weeks: much more than in one semester of school. The hospital staff answered all my questions, told me about their daily life as well as Ghana and Africa's problems, traditions etc. I was allowed to do so much: injections, prescriptions, feeling the baby's heartbeat, pulse taking etc. I even saw a few births (now that's one amazing experience). Work is not always easy, especially in the malnutrition centre where kids are very thin and some have HIV and won't have a long life. People are very poor and hospitals are sad places. Many women had anaemia yet cannot afford to buy blood so the other's and the baby's lives are at risk. However, I don't regret anything. It really changes your perspective on many things. I decided to go to volunteer in order to make sure I wanted to have a job linked to human rights, women's rights and development, etc. Now I'm sure that's what I want to do.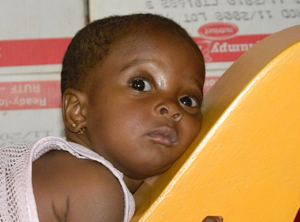 Ghanaians are amazing people. They welcome you with open arms and make you feel at ease. The kids are hilarious and yell "Obruni" (white) every time they see you. I almost felt like home after a couple of weeks. Everything is chaotic in Ghana but simply accept it and open your mind and you will have no problems fitting in.
The accommodation on the ground is rather basic but compared to everyone else in Ghana it's almost luxurious. Sure, there is no running water but taking a shower outside (with a bucket) when it's so hot is pretty funny. The rooms are clean (no cockroaches like in some hotels I've been to). Joyce, the cook, prepares very good meals. Ask her for Fufu with red stew: it was delicious. The pancakes, red-red (plaintain and beans), egg sandwiches and spring rolls are excellent as well.
I recommend Global Crossroad to everyone. I really had a life-changing experience and met wonderful people. The first few days are hard, but as long as your open your mind and don't give up, you'll be just fine.
Would you recommend Global Crossroads programs to others? Yes.
Would you mind serving as a reference for future volunteers? No.
(If yes, please write your email address): marie.lamensch74@gmail.com
Marie Lamensch
Joanna
I was well taken care of by Global Crossroad. The American staff gave me good info prior and the staff in Ghana took good care of me.They picked me up at the airport and went above and beyond to make sure I experienced the Ghanaian lifestyle. They took me to a wedding, to church, to the beach on my birthday and to a Christmas dinner and on the mini-venture to a few other cities. There was a little confusion about which days I wasvolunteering and which days I was going on the mini-venture, but it all worked out well. I think flexibility, sense of humor and a strong desire to understand the local ways are necessary to have a successful experience. The living conditions were very primitive- no running water and bunk beds but this is on par with how people in the country live, so very legitimate. There was a woman who cooked for us as well and she was very nice. We also took local transport to get many places as part of the experience. On the mini-venture I had thought we'd have a driver to get around faster, but it turned out fine on the tro-tro's and shared taxis. Franklin and Richard are both very responsive, helpful and caring. The experience at the orphanage was amazing. You have to be somewhat enterprising to figure out what you should and can do to help there as no one gives you an assignment or directions.
There are about 100 children and only 7-10 staff members and there were 5-7 volunteers when I was there, so any extra attention and love the children get makes a big difference. I mainly played with the children and took care of the infants which was exactly what I wanted to do. It was Christmas vacation so school wasn't in session so teaching wasn't a possibility. The children are loving and beautiful and I loved the experience of playing with them. They need love and attention and it was amazing. Other things that volunteers were doing were painting a map mural, working in the nursery, creating a hand-washing before meals program, cleaning dishes in the kitchen. Some volunteers seemed to have issues with the orphanage management as to what they were/weren't able to do but I found that I was able to do everything I wanted to. I brought tons of children's clothes, toys, soccer balls, infant formula, children's vitamins, first aid kits and they were all useful and needed. The clothes didn't get used immediately as they did have a supply already. The toys were stored in the office and not given directly to the kids as the staff was afraid the kids would spoil them but whenever I wanted to share the toys with the kids, I would just go into the office and get them and play games, soccer, puzzles, read books etc with/to the kids. I fell in love with the amazing beautiful children there and I fully recommend this program and am happy to share my experience in more detail with anyone who is interested. I am missing the beautiful children and my experience very much and would definitely volunteer with and travel with GC again.
I am very grateful for my time in Ghana and to the organization. I am proud to tell people that I am with Global Crossroads, as I know that the organization contributes part of the program costs to the project itself. I have recommended Global Crossroads to a number of friends and hope if they do decide to do volunteer work that they will go through Global Crossroads.
Best regards,
Joanna
If you too are a professional there is much you can offer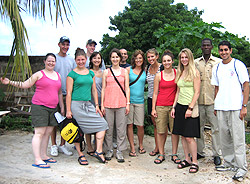 Getting ready for Ghana planning wise I felt comfortable with Global Crossroads (this is high praise coming from an "organizer" type of person). I was picked up from the crowd in the airport despite me not seeing the sign…Gloria and Mamah latter said "I just looked like their girl".
My volunteer experience transcends words, this is a trip that should cause a lot of weighty, critical thinking. At my volunteer placement in the Hohoe District Hospital I meet friends and marveled at the methods. Everyone I meet was extremely welcoming and many desired sharing of knowledge and skills. If you too are a professional there is much you can offer, thought you have to be very proactive as you will likely not be asked to take on work. Based on my experience there is room for non-medical volunteer's in the hospital also, but they need to be highly motivated or there to observe.
Overall the experience was awesome. I did not have difficulty getting answers quickly from my coordinators.
With Great Thanks For Assisting Me In This Endeavour,
Marie Matheson
My experience in Ghana
Thank you for having me as an intern/volunteer with Global Crossroad in Ghana, at the Royal Seed Needy Home. I was impressed with the changes I saw over the 10 weeks I was there, including the completion of the boy's dormitory and continued work on the new kitchen. Naomi has a great vision for the home and was very accomodating to the volunteers. Although I was unhappy with the Language and Culture program, Richard was a great Twi teacher and guide. Both Naomi and Richard went out of their way to provide for me at some point. Richard brought me to Accra to exchange traveller's cheques and buy a new camera, helped me complete my agricultural research, and showed me around Kasoa among other things. Naomi was very quick to respond to my concern about the locks on our doors, allowed me to take a child to Tema to get his hearing tested, and had great hairdressers come to the orphanage when I wanted my hair braided! They both were also very helpful when I needed to get a police report for my stolen items, and they brought me to the station in Kasoa. My experience in Ghana is one I will never forget, and I am very thankful for the guidance of the coordinators.
I would certainly reccomend Global Crossroad to others and will consider participating again at some point.
All the best,
Erika
Ghana Experience
I have had the most amazing time in Ghana mostly because of the welcoming nature of the people in general and the staff and children at Offense children home in particular. It was great having the support of the Global crossroad staff and to be met at the airport and be met at the airport .it makes all the difference when setting into a life that is so different from home. My experience was improved greatly by working with other volunteers who were the same age and had similar interests. I don't know whether this was done purposely, but it has certainly made a difference.
Thanks for everything.
Thomas and Victoria
Stacy de la Motte
Greetings from Ghana. Actually it feels quite like home already (it's Raining right now, just like in Portland). I'm enjoying my experience very much. Richmond is both friendly and capable, and my host family is very kind. What I was writing you about is that both my placement and host family situation(s). I'm volunteering at Christ the King Hospital in Ahinsan-Kumasi. The Physician in charge is Dr. M. Nkrumah. My position has two responsibilities:
Shadow the physician in charge as he examines patients, does rounds of the wards, and performs procedures. The Dr. and I then discuss the specifics of each individual case.
Work in conjunction with the chief Laboratory technician to microscopically analyze blood, urine, and samples for parasites and other pathologies.
Thanks for everything.
Thomas and Victoria
Jackie Cody Downing
Traveling to Ghana via the Global Crossroad volunteer vacation mini-adventure gave me greater exposure to the people, history, culture and challenges of this country than a regular vacation. I appreciated Global Crossroad's flexibility in working with me to both volunteer at an orphanage and an HIV/AIDS education project. They were very different experiences but I met some wonderful people throughout this experience. It was very helpful to have a program coordinator available to assist needed. The mini-adventure portion of the vacation provided guided tours of some of the areas of Ghana that I was very interested in such as Elmina Castle on the Cape Coast and Bonwire, the home of kente cloth, near Kumasi .
This was one of my most memorable travel experiences because of the volunteer opportunities.
Jestine Yapuncich
During the first week of the program I was involved in the Twi language lessons. I found these lessons to be very helpful because I had never heard the language before coming to Ghana . I also enjoyed the history lessons taught in the same week. I felt more comfortable with Ghana 's geography after the first week. I also liked the flexible time it allowed the other volunteers and me to do other things and still have lessons.
The second week was extremely interesting. I felt that going to a farm and eating and drinking off palm leaves gave me the true feeling of Africa . I enjoyed the people's reactions to "Bruni's" carrying logs and water on our heads.
he Kente weavers have all my respect and more. I now value the fabric much more after attempting to make it. I will continue to weave at home but not with the large loom. I feel like I have a better understanding of the people after taking this course. I am glad that I enrolled into the program.
John Donegan - Trip Report – HIV/AIDS Project Placement

Kumasi, Ghana
Well here I go. Finally I've forced myself to sit still for a few minutes and, for the greater good, attempt in some small way to describe my experiences in Ghana. And an easy task it certainly isn't; I gave up writing in my diary after the first week as I knew there was no way the book was big enough, nor was there adequate time, to describe what was happening around me. The instant the doors were opened on the tarmac of Accra airport, the plane filled with the soon-to-be-typical warm and wet equatorial breeze, heavy with the smell of gas lamps and sweet fruit, and the sound of Ghana's beloved music – a fusion of country folk and calypso is the only way I could describe it – and played at several decibels higher than is healthy. I knew I was finally here. Every waking moment lent itself to the makings of a great story, of wonderful people or interesting events (!), and often I wished that so many different people were able to be there with me. Instead, I found myself sitting in internet cafés for hours on end, overloading my e-mail account, trying my best to bring Ghana to the world out-side. Here in parts, where I've been lazy, I've done a 'copy and paste' from some of the e-mails I sent home.

Well onto the real thing - Ghana! The Gold Coast...so many things - people, sounds, colours, smells (!) and while with it came so many mixed feelings from minute to minute, I knew and know it will be an experience I'll never forget and never regret - and while there were many moments I craved a pizza or chicken curry I sur-vived, and am so glad that I went.
The placement:
'Hi guys, I've arrived. "Brother John", my new nickname, along with 'Kofi', my local language name. Al-ready when I read I have a Ghanaian accent in my head. It must be a new side effect of the malaria tablets! Anyway, yesterday afternoon I came to the volunteer organisation I'll be working with 'The African Hope Founda-tion of Ghana', set up to help co-ordinate some response to all aspects arising from the HIV/AIDS epidemic. The project coordinator is wonderful - Agnes - and she spent the rest of the day telling me all the great work they do: general education, support for people living with HIV/AIDS, training for care-givers, rehabilitation/prevention for street-kids from prostitution, and helping those children orphaned through HIV/AIDS. The rehabilita-tion/prevention part mainly constitutes a new vocational school (where I'll mostly be working) involving the teaching of a trade to the young women, mostly craft work. When a volunteer comes along the class gets more of an academic focus, but I guess they'll be learning some Gaelic football from me too!'

My placement actually consisted of teaching in a school 4 days a week, which I was admittedly not fully prepared for, but managed with few resources! The classroom is the upstairs of a church with a group of about 20 young women of all mixed ages and abilities, but all with the most eager appetite for knowledge I have ex-perienced anywhere. I was teaching them English, Maths, some Geography, History, Art, Sports, but their favour-ite was science - anything in science. Oh, and they love singing Celine Dion songs...
The school was a vocational school which taught the girls practical skills such as sewing, dress-making, tie-dye, catering etc., providing them with an invaluable skill and preventing them from earning money working on the 'street' which is quite common. On graduation from the school, these women are given some financial support to set up their own business and visits are then carried out to monitor the success of these women.
One day a week, I worked in the NGO's office (African Hope Foundation of Ghana - they don't have a website - they have more pressing expenses) in central Kumasi where they organised workshops for care-givers, support for people living with HIV/AIDS and general sex education to these people, prostitutes and the general public. I also got to go to a two day seminar in Obuasi on 'how to be a good counsellor' organised by CARE In-ternational, which was especially interesting as I qualified as an engineer and anyway had no experience of teaching, or any particular 'medical' knowledge. I also got to meet the country co-ordinator for that NGO and it was really interesting to see how the whole system operates, from the few cents 'we' donate in the West right down to the individual community-based projects, with full accountability. Another day I got to sit in negotiations with the Queen Mother of a local tribe, a target group for Aggie's education. We were trying hard to get her co-operation and permission to work with the women of the tribe on AIDS prevention education, but things are never that simple…
Global Crossroads:
My experience with Global Crossroads was excellent. When the plane touched down in Ghana, only then did the thought cross my mind, that maybe I should have spoken to someone from the organization before set-ting off (all contact had been via e-mail/fax). However, that feeling didn't last long and in true Ghanaian fashion and due to the smooth operation of the company, everything worked out perfectly.
I was met at the airport by Richmond, the local representative. Richmond is great. Early next day he took me to Kumasi, heartland of the Ashanti. He organised everything, all the transfers and introductions, and took me around the city on the weekend, and he is very protective of the volunteers. If you have any problems he'll always help. And also checks up on how you are getting on. Richmond also brought us to Mole National Park, one of the most fascinating trips I've ever made! (details below)
Host Family:
While in Kumasi, I had the privilege to become part of the Quarcoo Family. The parents introduced me to the children as their new 'Brother John', and I was welcomed with open arms, although I needed a bit more energy to keep up with their soccer and table-tennis matches with all the neighbours! I was given my own bed-room, with a double bed, electric fan and a delicious omelette every morning; a wonderful cook.
'On the morning of my birthday, my new-found brothers came into the room at 6am with colourful balloons with good wishes, some orange juice and chocolate for breakfast! It was fantastic. In the evening, when I came back from work, the boys came in, and with great excitement insisted on leading me down by hand to their own school to meet the school director and meet all their friends, proudly introducing me to everyone they met on the way'.
Practicalities
Transport:
Travel to work was with a tro-tro - less than comfortable mini-vans that shake with the sound of highlife music. Traffic is a nightmare but you have to experience it like Ghanaians do. The tro-tro station basically in-volves a lot of waving, pointing, shouting and door-slamming, and the system runs remarkably well. So long as you know which queue to wait in for the right tro-tro going your way there's no problem. The neighbours will all help you. It costs just 5 cents (euro cent) each way into town (can take up to an hour). Otherwise catch a private taxi for about EUR2/USD2.50. There are also 'shared taxis' something between a private one and a tro-tro - never quite got the hang of it, involves pointing the driver in the direction you want to go and seeing if he stops! It will all become second nature.
Food:
'The food here is, very thankfully, not at all bad as I'd feared, mostly involving fried rice or sweet potato with tomato sauce. Although the host mother cooks me a different meal than the rest of the family, she's obvi-ously had foreigners before! I just watched her prepare traditional fufu, banku or kenkey (mashed stuff with a sort of soup stuff) I still can't tell the difference. And for dessert oranges or pineapple. The fufu is cassava/yam pounded into a gloop with a small tree trunk. I won't miss the taste too much. My 'mother' loves to introduce me to all the food, and show me the vegetables growing in the garden. My favourite meal definitely became fried plantain with ginger and freshly roasted peanuts! Ghanaians have a sweet tooth! Biscuits are for sale everywhere, and most of the bread is also very sweet. A typical cup of tea will also have at least three tablespoons of sugar'.

There are a couple of supermarkets, and petrol-stations (e.g. at Asokwa Junction where the school is located) that sell various 'Western foods'.
Water:
This again took me a few weeks to find out the system. There are two types you can readily buy: "Pure Water" and "Ice Water". Pure water comes in clear sealed plastic sachets with the label of the purification com-pany on it. This is the safest option. It costs about 10 cents for about 250ml I think, but it also tastes 'clean' is the best way to describe. The other one Ice Water is more frequently available but is just water in a plastic bag tied in a knot at the top and the source is unknown...you might be ok with it - it costs just 2-3 cents but I didn't take the chance. If you can't see any Pure Water for sale look out for the large cooler boxes at the stalls - this is where it is hiding. Nearly every stall has some no matter what else is for sale at the stall. There is also a dubious brown coloured drink for sale which I can only hazard a guess is ginger ale - root beer?. There is also bottled water but it's expensive and is never chilled, but it probably tastes better. After the first couple of weeks I got lazy and drank the water from the home where I was staying (they had taps which occasionally worked). It tasted fine (was purified) and all the family drank from it. But after a few days I felt a coating on my teeth and went back to the Pure Water.
Other drinks widely available are brand soft-drinks (brewed locally), and a dark malt drink.
Bank/Money/Personal Items:
Credit Card is absolutely useless from my experience. Visa Cards I think may be accepted at a couple of cash machines in Kumasi but not Mastercard or others (like mine). Take Travellers Checks I'd say. These are easy to change, usually $50/€50 at a time is plenty. At the bank you'll be handed a huge wad of cash, as it's all small denomination and you feel like a millionaire, but it's not the easiest to hide in a moneybelt! I think Standard Char-tered Bank had slightly better rates than Barclays. I left my money and passport at the home. Best to keep your belongings in a locked bag at home. The kids can be very curious about what the foreigners brought; they won't take anything, just look.
Laundry:
Laundry will be done by you at home or your family (if you're lucky). This is all the exercise you'll need in Ghana. Your hands can get quite sore though from rubbing all the powder by hand.
Clothing:
I went in wet season. So an umbrella or a very light waterproof jacket is a good idea! It is never cold, by my standards at least; I turned the fan down from 'high' to 'medium' just a couple of evenings. Long cotton sleeves in the evening. Lots of mosquitoes. At work, casual/smart clothing is the official line.
Language:
English is the official language. Its day to day use is limited though to newspapers, some TV and road-signs. Oral communication between people in Kumasi is in 'Twi' (schwee). However, communication in English at home and at work was normal and without difficulty. It shouldn't be too difficult to pick up a few words of the local language, just for fun.
Being the 'Obruni':
'it would be fair to say I stand out here. Especially stuck in the many traffic jams...can't help but feel self-conscious with people staring at me through the windows- I'm pretty conspicous!! Most people just seem curious and now I just try to smile and nod. On friday evening we were dropping home one of the office workers and about eight kids ran out of the house jumping up and down bursting with big bright eyes, pointing and shouting 'obruni, obruni' - 'white man, white man'. I'd been warned though, and re-assured myself it didn't mean 'attack, attackl…'

Kumasi is a big city in Ghana. There are a lot of people and as white people tend to stand out some-what, expect A LOT of attention. People will stare, try and sell you stuff, shout at you, shout at all there friends and neighbours to come out and look at the obruni (white person) walking down the street....etc. I took a while to get used to that, but all the attention is definitely NOT threatenting and it just curiosity, most people will have never seen a white person up close before. In general, if you say no you're not interested in buying ten pairs of yellow socks, they have no problem and will move on. Sometimes the kids you meet will ask you for sweets (or a Playstation 2 each!! – rose coloured glasses) but if you say no the first time, then you won't be treated like a walking cash machine. Without setting a precedent (nothing is 'expensive' anyway), it can be a nice gesture to buy lunch or bring the kids to the internet café to play games once in a while. But you will often be treated like a celebrity, meeting everyone and shaking lots of hands. You may also be subject to interrogation on the 'Western World's' immigration policy when meeting some people on the street and why 'you' make it so difficult for them, but the best advice in all situations in Ghana is RELAX and enjoy every moment.
Flights:
If you need to change the dates of your flights and are having difficulty you can opt to go 'stand-by', which just means calling the airline and waiting for hours at Accra airport with all your baggage to see if you have luck. Apparently the best days to do this are Monday-Thursday.
Communication:
There are several internet cafés in Kumasi. The connection is very slow, however. But it's very cheap, especially when compared to international phone charges. There is a high-speed internet connection, slightly more expensive) at Asokwa Junction (near the school). Post/Mail from Europe takes about 2 weeks to arrive in Ghana. Mobile (Cell) Phones are very popular in Ghana, and with your contract phone from home, you will be able to send/receive calls and messages, although the signal quality varies. I also brought along a short-wave radio to pick up the BBC World Service (17.83, 15.44 SW) to keep in touch.
Travelling/Sights:
Kumasi, Mole National Park, the Ghanaian Coast, the three absolute 'must-sees' of Ghana for me. Travel-ling alone you do attract attention, which, more than anything, just drains energy out of you. The notion of 'trav-elling' itself or a holiday is unfamiliar; they don't have such a luxury. While it's absolutely essential to meet the locals when travelling, you will probably meet up with fellow travellers (who are mostly other volunteers) along your way and also gives you the chance to share experiences/tips.
Mole National Park:
(deserving of special mention)
On my second weekend in Kumasi, Richmond organised to take us up to Mole National Park (me, Dana, Rachel and Emily – four adventurous and eager Global Crossroad volunteers working on various projects in the Kumasi Region).
The journey is not for the faint-hearted, but comes thoroughly recommended:
'…I'm just back now in Kumasi from a fantastic weekend in Mole National Park. It's a huge protected game reserve in the remote northwest of Ghana (hundreds of square miles). We were off to see us some species in their natural habitat…so packed up my backpack on Thursday evening. A little time later, and some plasters, suncream, headache tablets, nausea tablets, malaria tablets, allergy tablets, vitamin B tablets, diarrhoea tablets, insecticide, insect repellent, hydrocortizone cream, camera, binoculars and shortwave radio in tow, I was ready to make it to the STC station in Kumasi for our 8 hour bus journey to Tamale. STC government bus company adver-tise newspaper articles about themselves at the bus station- headline "STC Safe but Uncomfortable"…

…As we were leaving the station the loudspeaker was playing the music of "Gimme hope Johanna, gimme HOPE Johanna...till the morning come". We arrived in Tamale at 2.30am ahead of "schedule", the journey was 'safe but uncomfortable'…

…The climate here was noticeably more bearable, as although hot, heading northwards out of the lush green humid south of Kumasi, we were in the more barren dry badlands of the north. From south Ghana to north Ghana not only marks the change in geography and climate, but also going from Christian to Muslim Ghana, very interesting….

…Eventually our bus arrived. It was called 'Peace and Love' - best described in good humour
>as a hippy mini-mover. Or a loud rickety converted van, with no windows, hard wooden seats, handrails falling from the roof, and holes in the floor so that you could see the road beneath you. We headed for the last row of the bus - four people across. we could do this… Then there is a fold down seat in the aisle, which made it just about five-across. Then followed a LOT of shouting. "They want to make it six-across". So, with a big explosion and cloud of blue smoke, the bus left. The 22-seat bus. All 38 of us, and the driver and conductor. All seated. Everyone was quiet. On top of the bus 38 passengers' baggage, 6 bicyles, 2 spare tyres, a corrugated iron roof and a goat, strapped on for dear life, on occasion reminding us of its existence with a distant 'maaaa' from above every so often...

…About an hour on the road, the bus pulled over and a crowd ran towards us. Then suddenly started climbing up on the outside. My thoughts, naturally enough were that they must be helping those passengers who are getting off, with their baggage". But nobody was getting off. And so the bus started up again, we took a sharp right turn off the main road onto a dusty dirt track, with 16 new additions (extra passengers on the roof), and we didn't pass another car for the night. And so we were to spend the next 5 hours, watching the sun go down, winding SLOWLY up and down the potholes along a dirt track, often driving at a 45 degree angle down the side of the road bank, to avoid the potholes, bus going forward and backward up hills as it struggled to change gears (the whole bus shook ferociously every time). Six-across in a minivan. Banging and bouncing on the seats. Such hard seats. But we were in the wilderness of Ghana. And spending hours along this bumpy dusty dirt track at 10mph, 20 at a good stretch, at dusk and by starlight, came across small dwellings of round mud houses and-thatch rooves. When the bus just stopped, randomly, and turned off the engine (I think to keep it from over-heating)all was dark, hearing only crickets and seeing the faint glow of the fires lighting up the centre of the compounds, we could see children playing and women cooking. No electricity generators, no telephone, running water, gas cylinders, no obvious access to any modern services of hospitals and schools. And the people seemed to live purely on the land, with a select few crops and some chickens and goats - like time has been standing still here for hundreds and hundreds of years...

…We trundled on at a snails pace, gasping for air and water. Hours of darkness passed. We were so sore and tired. But as wrecked as we were, we had such a laugh and the four of us were all in such high spirits, not caring about the discomfort and completely appreciating the experience. And if it wasn't so slow and hot and stuffy and sticky and dirty and squashed and loud and smelly and exhausting, it wouldn't have been half as much fun, and we knew it. Although we hadn't met each other before, the four volunteers knew each other all too well by the end of the day…
…At ten minutes to midnight a man got on the bus and welcomed us to Mole National park. We didn't know where we were. Somewhere in some little untouched corner of Earth. The bus seemed to pick up some speed, anticipating the end would soon approach. SLAM! On the brakes! Sudden short screams from half the bus at being suddenly thrown up out of their daze wondering what was going on. The bus was stopped and put on its headlights. An elephant walked across the road. We continued on our journey and reached the Mole Motel a while later. We rolled off the bus onto the ground.
…After the girls had checked in, all the rooms were full, but the staff at the motel found Richmond and myself a place to rest for the night. At least we weren't outside, where a huge beetle was banging itself off the pool lamps, and kept me awake. The wise Richmond headed for bed straight away but the Obruni were deter-mined to stay up relax, appreciate free space. It was 1am but we sat around the pool on the warm night. Hmmm, an elephant appeared from behind the small reception hut, blocking our view of the 'Elephants in this park are completely wild - do not approach the Elephants' sign. So em, we scrambled up and inside the restaurant, and watched it walk up and stick its trunk into the pool and spit it out again. This elephant wasn't shy and they can attack. And no, despite what we thought, they can't be outrun (we were told, and decided to accept it rather than carry out any experiments that night).

The Mole Motel, running on electricity generators is set on the ledge of a rock face overlooking the vast savannah and one of the two main watering holes. At 6am on Saturday morning the sun was rising and we were heading on our park walk. Two hours of whispering through the park, and sighing every time someone stood on a stick that broke and made noise. Saw about 60 baboons climb down trees and head off to the watering hole. And baby monkeys, some more elephants, antelope and wild butterflies (danger, danger)... Walking on your own is forbidden in the park and you have to be with an armed ranger. A couple of minutes into the walk I ran back to the room to get some more camera film and had to catch up with the group who were waiting at the top of the road for me. Unfortunately a couple of warthogs started munching and oinking a spot between them and me. So acting like nothing was up, just calmly passed them out. They've got huge horns, ok they're tiny, but horns none-thenless. And they're quite fast, but really afraid of humans, phew, thank God!! We spent all the rest of Saturday lounging in the pool, the very one the elephant had been drinking out of, and hadn't since been cleaned, save for the removal of the HUGE beetle on the surface, who after failing to knock himself out the previous night, ap-parantly opted for drowning to end its despair instead. Down at the watering hole, where the elephants drink and wash. The evening we spent by the pool overlooking the savannah, watching the sun go down with cold beers. By the time dinner came (we booked for 7pm, and came at 9.30pm GMT - Ghana Maybe Time) there was 10 of us Obruni there sitting around taking it all in, all talking about our experiences, what adventures are all about, sometimes the journey as much as the destination...
Conclusion:
Ghana is a different place from anywhere else I've ever been. In ways, naturally, it was a culture 'shock' but that's what is to be cherished. I've met so many kinds of people that I know I never would have at home and got to exchange stories and listen to people talking about their families and their work with deserved pride. Of course I also got to see some of the more difficult side to living in the 'Developing World' but it is all Planet Earth, our home, and nothing but pure chance that we are born where we are into more/less privileged backgrounds. With the wonderful support and organisation of Global Crossroads and my expanded Ghanaian Family I can abso-lutely recommend a trip. My final tip: The yellow pineapples are very sweet, go for the green ones.
Rosie Shea

Hello from Kumasi !
I have been here now for 3 days and am already feeling at home. Although, my stomach is taking some time to adjust to the food here, even though it does taste nice.
I was picked up at the airport by Richmond and his smiling face and have found him to be a guardian angel as I try to acclimatize myself!!
My host family is so adorable and very very welcoming! I am happy and healthy and thank you for this opportunity...I have already learnt a lot and am looking forward to learning a lot more.
For me this experience is not about making a change; it's about learning about the world around me and how to become a better person for myself, and you are the ones who have provided me with this experience...Thank You.
Loving the people here - their kindness and warm spirits make it very easy to feel at home!
Will email again.
[2 weeks later]
I have just recently completed the two week Language and Cultural Program for Ghana . The first week we had 7 Twi language and history lessons with Emmanuel, a qualified teacher in Ghana . The first two lessons were composed of Ghanian history, primarily regions and beliefs. The next 5 lessons were Twi language lessons which at times I found to be quite irrelevant when we were learning the parts of the body, however the majority of the lessons I found to be extremely helpful. I also feel as though the Ghanians appreciate our attempts at speaking their language.
The second week myself and two other volunteers traveled to Bonwire, where we were lucky enough to stay in the Queen Mother's house. Unfortunately, we did not get to meet her but we spent the week with her nieces and nephews who taught us a lot.
We spent a day at the family's farm and learnt to differentiate between the crops that are mainly consumed in Ghana such as Yam, Cocoyam and their leaves and Cassava. We found the day to be very enjoyable, especially eating and drinking off palm leaves. We also walked back to town carrying logs on our heads, which the people found to be quite amusing but we loved it. I now have developed a lot of admiration for the women who carry large materials on their heads and carry a baby on their backs.
We also learnt how palm wine was extracted from the palm trees and of course learnt how the famous and local cloth of Kente was woven. It is an extremely tedious process; however, the final product is well worth the hard work.
It was a very enjoyable week and Bonwire is a very beautiful and quite small town that when the time came we did not want to leave.
On arrival in Ghana I felt very lost and overwhelmed. However, on completion of the language and cultural program I felt a lot more in tune with my surroundings.
Sandra
Tesselaar
Hello people at Global Crossroad!
This e-mail is to let everyone know that I am doing really well in Ghana volunteering at the African Hope Foundation. I am enjoying myself - the country is wonderful and Richmond really does his best to keep everyone happy. I have now been here for a month and have two months to go; actually a bit less, which makes me quite sad.
Thank you,


Sandra Tesselaar
Tess Bitterman
Through the health program in Ghana offered by Global Crossroad, I was able to work for three weeks in a rural hospital in a village called Onwe, near Kumasi . The experience l had was both amazing and unique. By shadowing the doctor and working with the nurses l was able to understand the functioning and limitations of rural health care in an African nation like Ghana .
Aside from this extremely valuable experience in health care, I was also able to visit various parts of Ghana such as the Kakum National Park (with the canopy walkway through the rainforest) and the Slave castles of Elmina and the Cape Coast , all with the help of the country co-coordinator.
My trip through Global Crossroad was clearly an unbelievable experience and l would recommend it to anyone interested in spending a diverse and interesting time in Ghana .
Thank you,