Project Summary
Reinforce Peru's stability by focusing on local projects that aim to build vital orphanages and schools. Construction projects in Cusco are focused on repairing or building homes and schools for orphaned children with occasional work on community development and improvement projects. Worksite activities require physical strength and ability, and include standard tasks related to manual construction like digging and heavy material movement.
Role of Volunteer
Volunteers work regular construction worker shifts with hours normally Monday – Friday from 8- 12:00 pm and 2- 4:00 pm. Tasks and hours generally vary based on weather, project needs and current staff schedules. A local supervisor leads the construction projects, determines assigned tasks and guides volunteers with their efforts.
Program:

Volunteer in Peru

Projects:

Build Schools/Orphanages with a Construction Project

Start Dates:

1st and 3rd Mondays of each month

Location:

Cusco (in and around)

Departure and End Point:

Cusco, Peru

Language Need:

Basic fluency in Spanish

Accommodation and meals:

Homebase or Host Family and Peruvian meals three times daily

Activities:

Varied manual activities at construction worksites for orphanages and schools

Working Hours:

25-35 hours per week
Skills/Qualification
Needed
There are no specific qualifications required other than physical strength and ability, since the project staff will provide any necessary orientation and training to perform the volunteer activities adequately. However, beginner to intermediate knowledge of Spanish is preferred. If you cannot speak Spanish, we recommend enrolling in our Spanish Language Studies program in Cusco, which can run simultaneous to your volunteer project or immerse in this program for a week prior to your project start.
Volunteer in Peru: Project Locations and
Free Time Options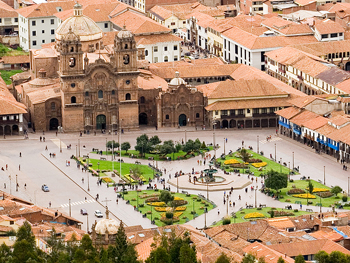 Global Crossroad's orphanage volunteer project is located in Cusco. The city is a fabulous place for cultural activities or for further travel or adventure. The city of Cusco contains many attractions like museums, parks, old historical squares, buildings and churches. Machu Picchu is another destination volunteers can head to for its majestic and alluring simplicity beckoning from its perch high in the mountains. Reaching the summit does not have to be a week-long commitment! There are options for everyone – trains or trekking will get you to the top in time to witness a breathtaking and magical sunrise.
Local cultural on-goings are easy to seek out with the help of our local in-country staff and other volunteers. Regardless of your project's location, there are colorful festivals and markets to peruse, many types of Peruvian delicacies to sample and simple outings like bike rides or casual walks during which you can witness animals, birds and the natural beauty of Peru.
Peru's landscape is varied and ranges from the high tips of the Andes Mountain range to dense Amazonian jungles to the exquisite beaches along the Pacific. There is truly something for everyone in Peru. The adventurer, bird-watcher, quiet canoe-paddler, scuba diver, mountaineer, beach connoisseur, foodie and amateur cultural anthropologist will all find just the right activity in Peru!