Costa Rica TEFL Program - San Jose

Picturesque and always-vibrant Costa Rica offers something for the adventurer in everyone! Although smaller in size than West Virginia, Costa Rica offers fascinating opportunities at every turn. Whatever your interests - eco-tourism, bird-watching, hiking, rafting, golfing, or just relaxing on the white sands of an unspoiled tropical beach - you will find thrilling opportunities in this secure, tropical paradise.
The School
Global Crossroad's TEFL school in Costa Rica is located in the district of San Pedro, just 5-10 minutes from downtown San Jose, and an easy, weekend, bus-trip to beaches along the coasts of BOTH the Pacific Ocean and the Caribbean Sea! Global Crossroad's TEFL institute in San Jose is equipped with modern facilities such as high-speed internet, WI-FI access, cable television, as well as a snack bar, comfortable classrooms and a small library.
Dates/Fees
Dates (2011)

Jan 17th-Feb 11th
Feb 16th-Mar 15th
Mar 21st-Apr 15th
Apr 20th-May 17th
May 23rd-Jun 17th
Jun 22nd-Jul 19th
Jul 25th-Aug 19th
Aug 24th-Sep 20th
Sep 26th-Oct 21st
Oct 24th-Nov 18th
Nov 21st-Dec 16th
Total program fee: $1549 (+$45 for insurance)

TEFL Certificate and Letter of Recommendation.
Free access to high-speed internet and laptop
Free local phone calls and incoming phone service
Free incoming international FAX service.
A toll-free emergency hotline in the U.S.
FREE city tour of Cusco and My Cusco City Guide.
Room/Food

Housing Options

For the duration of the program, there are several housing options to choose from. NOTE: housing costs are separate from course fees/project tuition. Global Crossroad is more than happy to assist participants in arranging a family-stay, hostel, hotel, or private or shared apartment.
Traditional Family-Stay: $450
Hostel: $1000
Private Apartment: $650
Shared Apartment: $500
Hotel (3-star rating): $1500
Textbooks/Classroom Materials
TEFL participants are required to buy all course-related books/materials which may be purchased prior to arrival in San Jose . The required texts for the TEFL program in Costa Rica are:

- The Practice of English Language Teaching - Jeremy Harmer
- Understanding & Using English Grammar - Betty Schrampfer Azar
- An additional text ($20) must be purchased upon arrival in San Jose .
Teaching in Costa Rica
For most Costa Ricans, speaking English is a way to either be offered employment or advance in their careers. Costa Rica is a major tourism destination and boasts various, active business sectors (i.e. electronics and a large call center industry), making English a growing, modern necessity for all Costa Ricans. In effect, this suggests that there are almost limitless ESL jobs available in San Jose and the Pacific coastal areas.
The Costa Rican economy is growing quickly - displaying a significantly strong demand for the English language. As an international center of tourism for all of Central America - more than 70% of the population is employed in the tourism sector, making learning English an imperative.

There are more than 25 official language schools in San Jose itself, as well as countless public and private schools and NGOs offering English classes. There are also excellent teaching opportunities in other cities - especially those on the Pacific coast.
Guaranteed Paid Teaching in China
Whether enrolled in our online TEFL course or one of our numerous abroad courses (in 12 destinations worldwide), Global Crossroad can guarantee paid, English-teaching positions in China for native English-speakers. Over the last five (5) years, Global Crossroad has sent hundreds of native English-speakers to China (since 2003, sending nearly 1000 teachers to China). As an English-teacher in China, you not only receive free living accommodations, meals, and competitive monthly salaries, but also a number of benefits. For more information on these abroad English-teaching programs, please visit: teach_in_china.php

Volunteer/Intern Options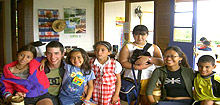 Global Crossroad presently offers one of most successful volunteer and internship abroad programs in Central America - sending nearly 200 volunteers annually to Costa Rica alone. Global Crossroad offers US$200 discount for successful TEFL graduates interested in enrolling in the numerous volunteer/internship positions in Costa Rica.
Major FAQ